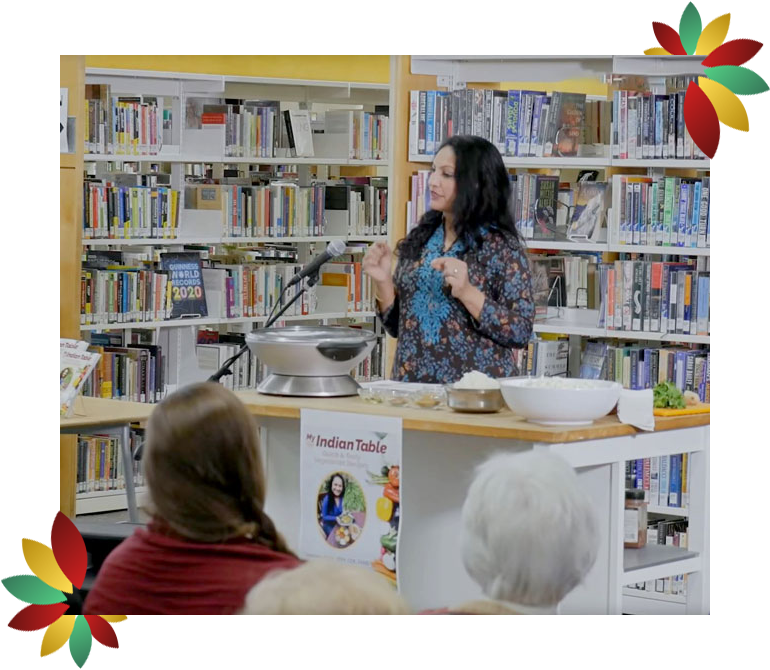 I offer a variety of presentations that promise to be fun, engaging and informative. I love to motivate and inspire positive health and wellness changes. Presentations include topics on foundational and healing nutrition, meal preparation and planning, mindful eating techniques, lifestyle, stress management and our specialty focus area of weight management. Topics can also be customized to meet the specific needs of your organization.
I am available to present live and virtual keynote presentations, corporate wellness workshops, half and full-day seminars, lunch and learn events, and plant based cooking demonstrations.
Spice up your life – Savor Indian inspired food
Heart Healthy Eating for Indian Americans
A Healthy Indian Diet for Health Promotion & Disease Prevention
Healthy Eating, Healthy Living
Eating Right for Life
3 Keys to becoming a Successful Nutrition Entrepreneur
Leadership skills to create a greater impact
Building a Social Media presence as a Diabetes Care Specialist for greater impact
Eat Right When Money's Tight – Budget friendly tips for those with diabetes
More Inclusive Nutrition: Enhancing Your Practice Through Cultural Understanding
Mastering Mastermind Meetings
Sheltering in Place: Cooking & Healthy Eating Tips for people with Diabetes during Covid19
Nutrition's Role in Bridging the Urban/Rural Divide Panel Discussion
Culinary Nutrition Collaborative Global Cuisine – India
Sustainable Traditions, Food, Health and Culture: The Immigrant Journey
Mindful Eating
Plant Based Nutrition
"I thank you from the bottom of my heart for taking time from your busy schedule to be a speaker at our symposium. Your presence and wise words helped magnify our cause in the best possible way. Our symposium was a huge success. All thanks to your enlightening words that inspired so many people. I also thank you on behalf of our participants who were thrilled to have you. I cannot thank you enough for gracing our symposium, invigorating all our spirits and making everyone understand key concepts."
"I can't thank you enough for your amazing talk "Indians Abroad, Stories of Resilience: Entrepreneurship – The Fun Way" at the Global Nutrition Innovators Summit 2021! From our first introductory phone call to your live presence on stage, I was very impressed by your professionalism and sincerity!
On the last day of the summit, in the closing ceremony I asked the audience to recall one powerful takeaway from each speaker. When it came to you, the audience instantly shouted FUN! Yours was definitely one of the best talks at the summit, and the only one that was *exactly* 20 minutes long!
I look forward to keeping in touch with you and continuing our association! Thank you once again!"
Sustainable Traditions, Food, Health and Culture: The Immigrant Journey
"Fantastic presentation! Allowed attendees to step into the shoes of an immigrant to gain perspective & insight! Thank you!"
"Fantastic presentation, you were very engaging and created visually intriguing and memorable slides that really illustrated their personal dietary/cultural experiences as well as how to tie in cultural competence to the RDN framework."
"Thank you for sharing your personal journey, and my eyes were opened. Vandana, I heard you speak and cook for us at CAND 2019 and I was so excited to hear you present again. You had a wonderful way of sharing with us, thank you, truly."
"I feel more prepared to help clients with a different background than my own now!"
"You brought up a lot of interesting facts that a lot of American born citizens would not be aware of. Very eye opening lecture and was enjoyable."
"Entertaining and informative."
"Super interesting. Opened my eyes!"
"Great information sensitive and thoughtful!"
Mindful Eating Presentation
"I had the pleasure of working with Vandana on a mindful eating session for a corporate client. Vandana was clear and concise in her messaging and provided key points related to mindful eating. She also led a wonderful mindful eating exercise that can be used by employees whether they are working from home or in the office. The session was well received by employees. Vandana, thank you for your time and expertise in the areas of nutrition and intuitive eating."
Work With Me - Media Request
Interested in scheduling a media interview, speaking engagement  or brand partnership with Vandana? Fill out the form below!