This is a common question I get from my clients with blood sugar concerns especially during football season and the upcoming holiday season. The answer is it depends. Whether you have prediabetes or diabetes, you most likely can enjoy an alcoholic beverage and still keep your blood sugar numbers on track. However, discuss with your physician and healthcare team in case you have specific restrictions.
Here are some things to keep in mind…
What happens to your body when you have alcohol? Your blood sugar may drop. This is because the liver which is responsible for breaking down glycogen to create glucose especially when blood sugar drops prioritizes processing alcohol instead.
Blood sugar medications can interact with alcohol and enhance the danger of low blood sugar.
When drinking an alcoholic beverage, it is important to eat and not drink on an empty stomach. This is because food can slow down the absorption of alcohol in the body.
Testing your blood sugar before drinking and after is important.
Know that your blood sugar may drop from soon after drinking to ~12 hours later.
Physical activity either before or after alcohol intake may cause your blood sugar to drop low.
Always be prepared with your supplies for testing and snacks/glucose tablets/gels to treat a low blood sugar in case you experience it
Stay hydrated and be mindful of your alcohol intake
The Dietary guidelines recommend limiting alcohol to no more than 2 drinks for men and 1 drink for women.
What counts as a serving? 12 oz beer, 5 oz wine, 1.5 oz hard liquor such as vodka, whiskey, gin, rum
Of course, the type of alcoholic drink can also make a difference. Drinks such as margaritas, punch, daiquiris, kahlua, Irish cream, etc can be high in sugar/carbs, alcohol and calories.
How can you enjoy your tailgating or holiday event without negatively affecting your blood sugar?
Test your blood sugar before you drink
Eat some food with your alcoholic beverage
Drink lots of water and non-alcoholic beverages to stay hydrated
Be intentional with your alcohol and sip it slowly
Be prepared with your testing supplies and snack in case you have a low blood sugar
Discuss with your healthcare team
Give this Low Calorie Mocktail Recipe a try!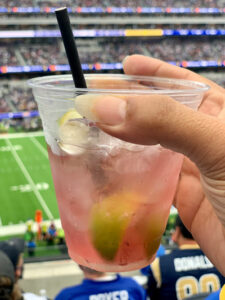 Cranberry Lime Mocktail
Ingredients
Ice cubes
8 oz club soda or sparkling water
1-2 oz cranberry juice
½ lime
Method
Fill a cup with ice cubes
Add club soda or sparkling water, cranberry juice and
squeeze ½ lime
Stir and serve with a straw and lime wedge
This drink is refreshing and fun!