This post is sponsored by The Alliance For Food and Farming (@SafeProduce). However, all the opinions and thoughts presented are my own.
As a dietitian, diabetes care and education specialist, media dietitian, mom, and consumer I ❤️ going on farm tours. I especially enjoy speaking with farmers, packers, growers and so many others involved in the day-to-day operations to learn about their practices, innovation, and food safety protocols all in the pursuit of bringing delicious fruits and vegetables to our tables.
In September, I had the honor of attending the Safe Fruits and Veggies Farm Tour in San Joaquin Valley, California – as a guest of the Alliance for Food and Farming (AFF). I was joined by eight other dietitians from across the nation along with scientists who provided technical expertise.
The Alliance for Food and Farming is a non-profit organization representing organic and conventional farmers of fruits and vegetables and farms of all sizes. Their primary goal is to provide science-based safety information about organic and conventional produce so consumers can make the best shopping choices for themselves and their families.
We had a jam-packed two-day schedule that included visits to citrus farms, stone fruit farms, grape vineyards, and the packing and cooling facilities.
Enjoy the details of my farm tour experience below.
Safe Fruits and Veggies Farm Tour: Day One
We toured the Porterville Citrus packing facility where we observed the entire process of oranges from when they are picked at the field to when they are added to the boxes to be shipped.
Did you know that farmers are using interesting sustainable farming practices to reduce the amount of pesticide use? I loved learning about the use of Pheromones (as a mating disruptor) to control insect populations and thereby reduce the need for chemical spray.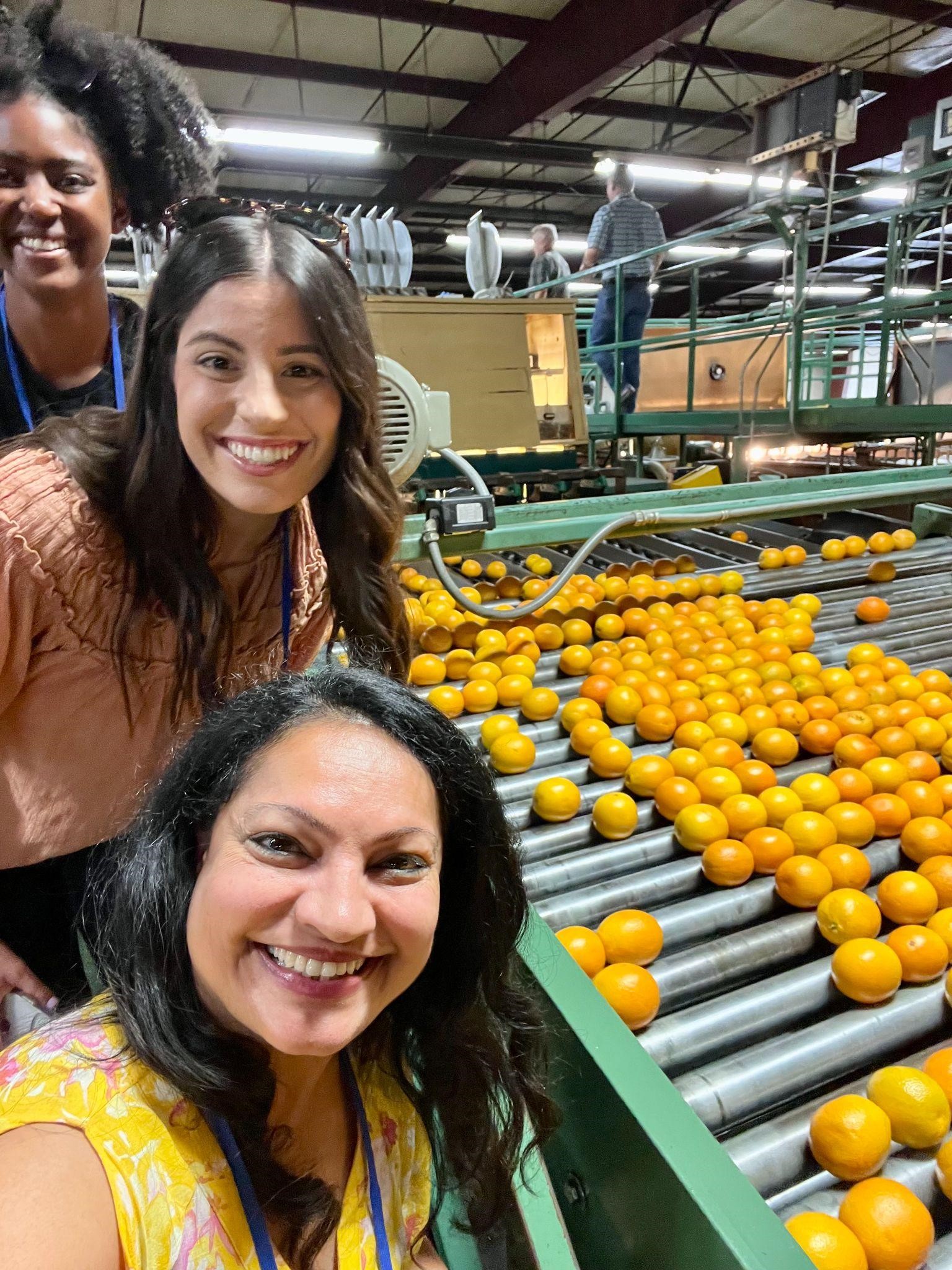 HMC Farms in Kingsburg was our second stop. We got to meet the owner Harold Mclarty and hear all about their vineyards and orchards that have been passed down for five generations (peaches, nectarines, grapes). Their commitment to leadership, food safety, renewable energy, education, and social responsibility came through from conversations with farmers and farm workers we spoke to. Walking through the farms and tasting ripe fruit in the orchard is an amazing experience. As we picked and tasted peaches we had the opportunity to ask questions about their farming practices and see the micro and drip irrigation in place (a way to significantly decrease the amount of water needed).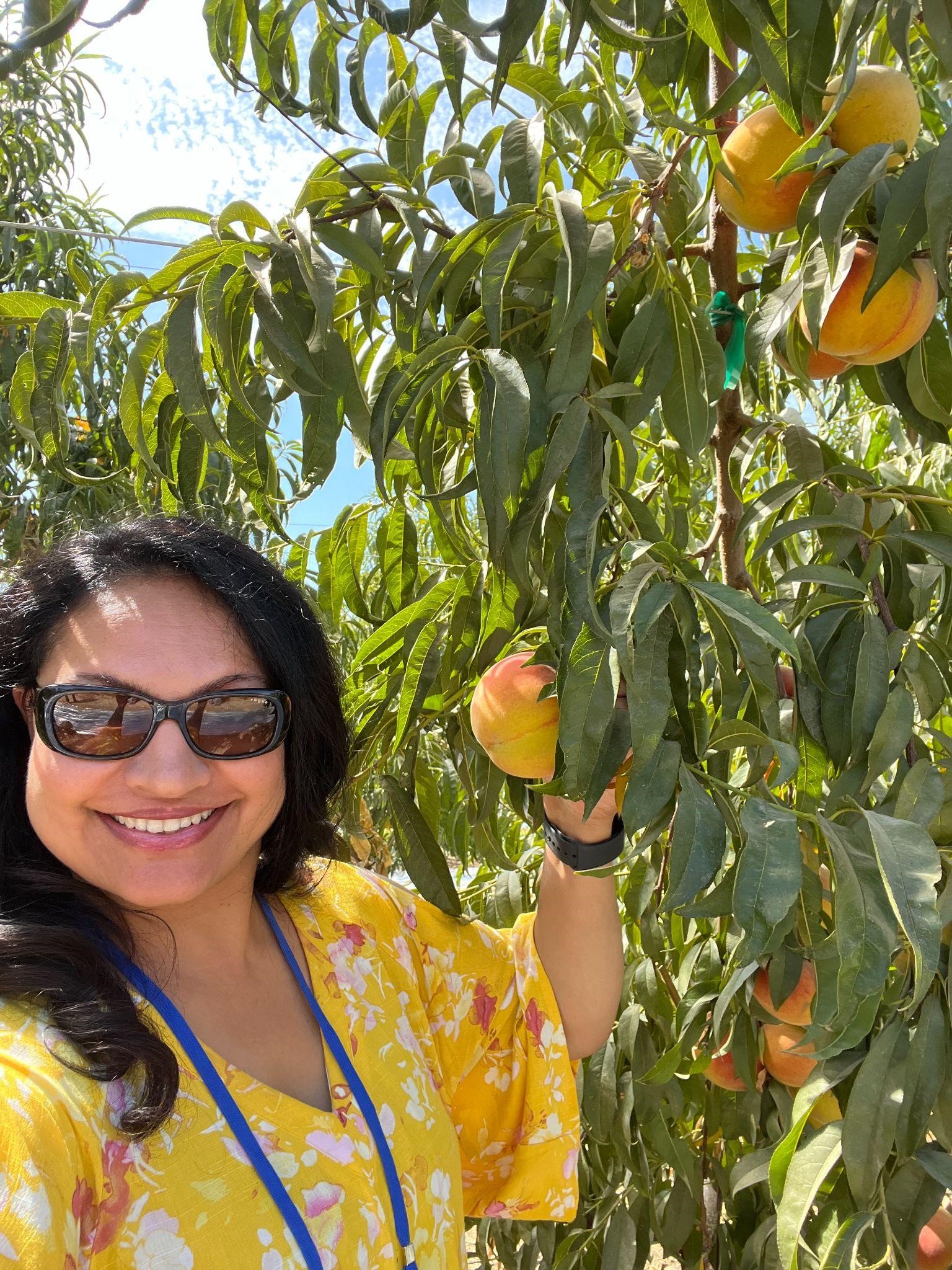 What really impacted me was hearing the passionate and heartfelt response of Drew Ketelmen (HMC Farms Manager) when it came to the 'dirty dozen list.'
Are you concerned about pesticides in your fruits and vegetables?
We also visited their packing, cold storage, and shipping facilities where we saw both traditional grading and sorting and the optical graders.
Our last stop of the day was at the Family Tree Farms Research Facility in Reedley. Here we had the unique opportunity of taste testing a wide variety of their fruits (including quite a few that have not yet been released to the market) and providing our feedback. What was fascinating is that they use non-GMO cross-breeding practices to create new types of fruits. For instance, to create a plum that had a more intense color, they needed to increase the number of anthocyanins. They did this by pairing seeds instead of splitting the DNA. How cool is that?!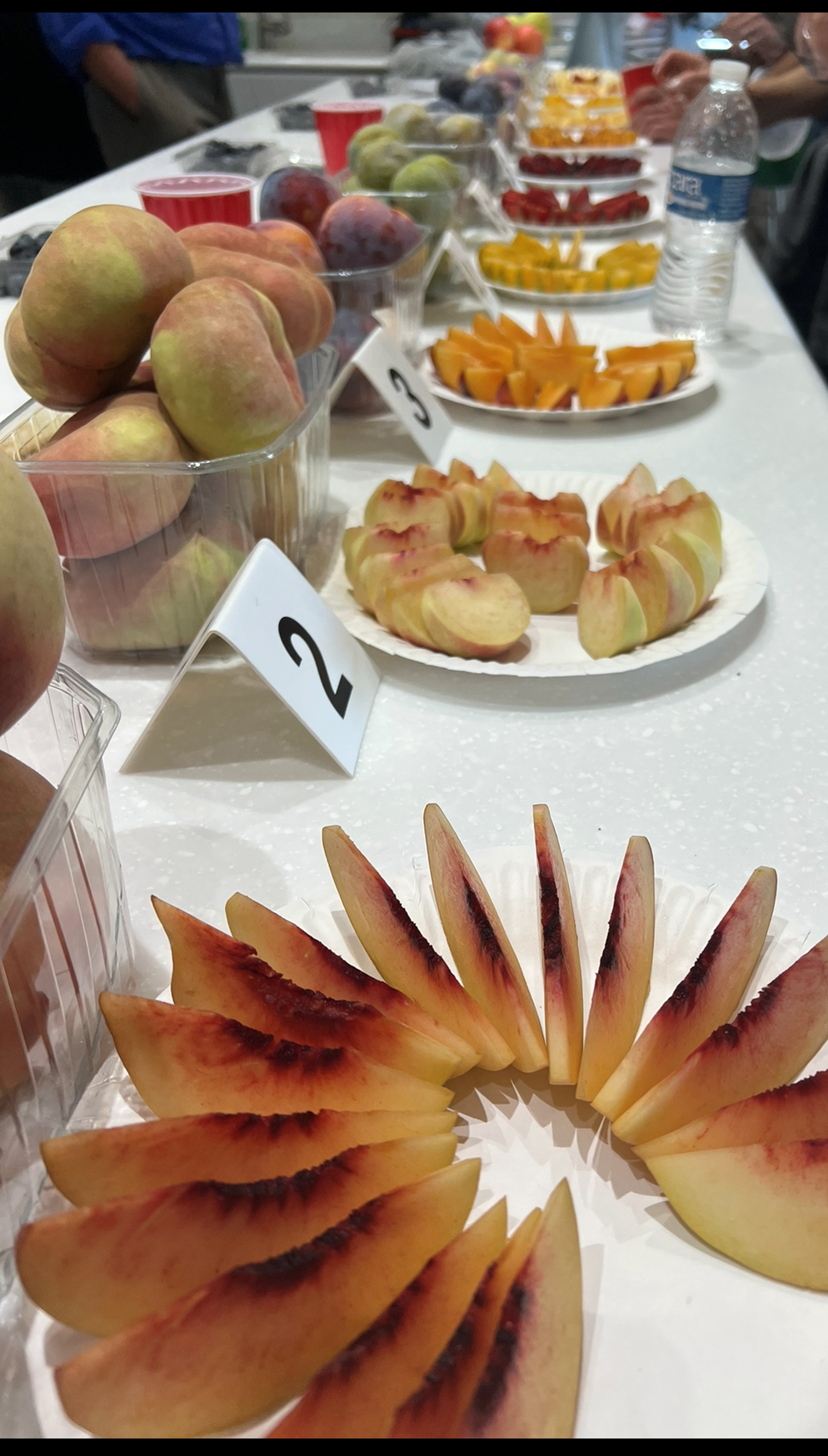 Safe Fruits and Veggies Farm Tour: Day Two
We started our morning with a visit to Jasmine Vineyards in Delano. What was impressive was that even though they were in the middle of harvest, Jon Zaninovich, President of Jasmine Vineyards took the time to host us. We were able to see grapes being harvested by skilled workers – I even got a chance to try my hand at picking grapes. We then toured their packing and cooling facilities. Jasmine Vineyards hosted a Croatian lunch, and it was wonderful that our host also invited other farmers who technically are competitors to the lunch. During lunch, we spoke to farmers at Jasmine Vineyards as well as others such as the team from Grapery (that produce cotton candy, gum drops, moon drops varieties).
Did you know that 99% of all the table grapes in the United States come from California?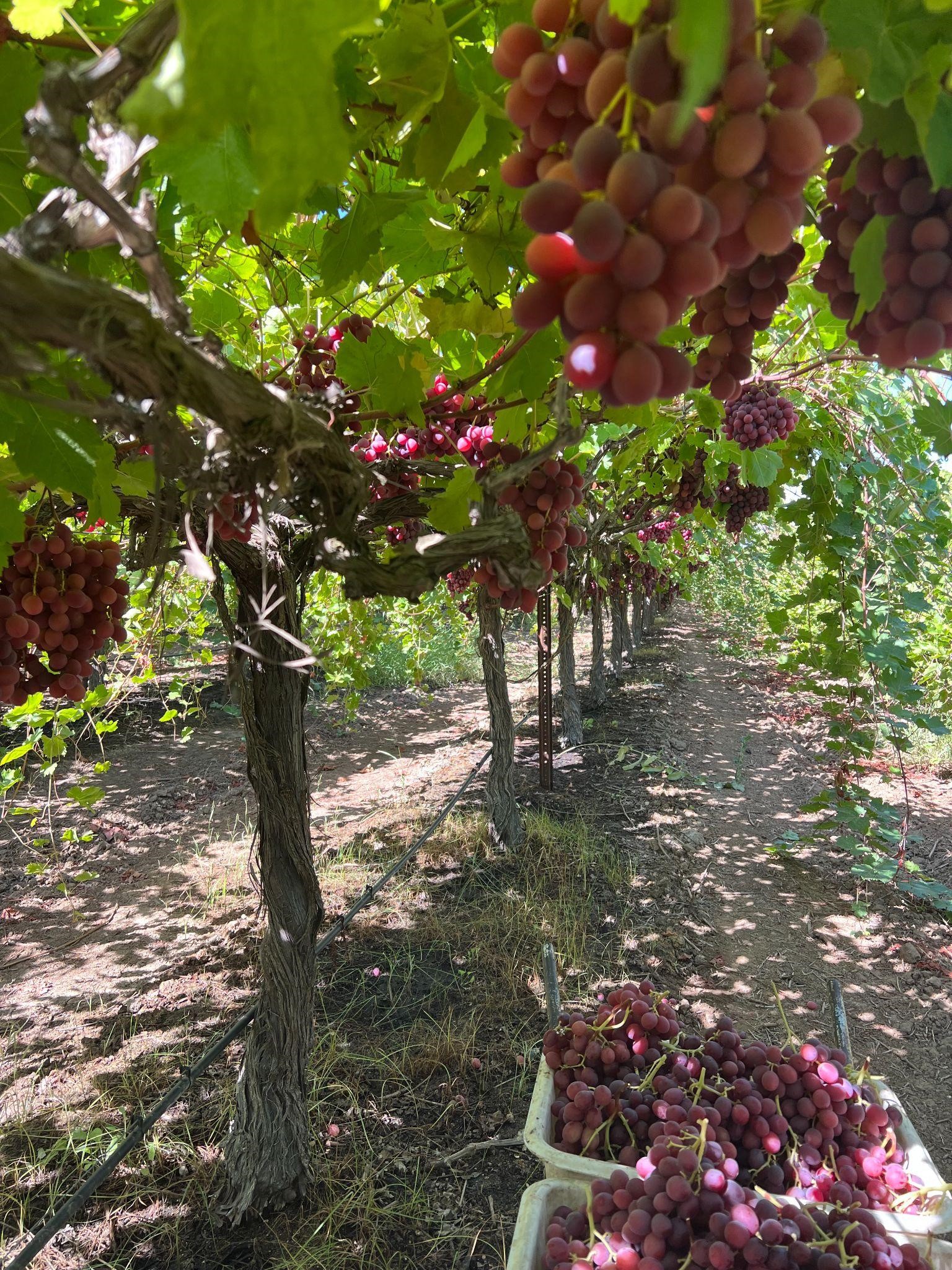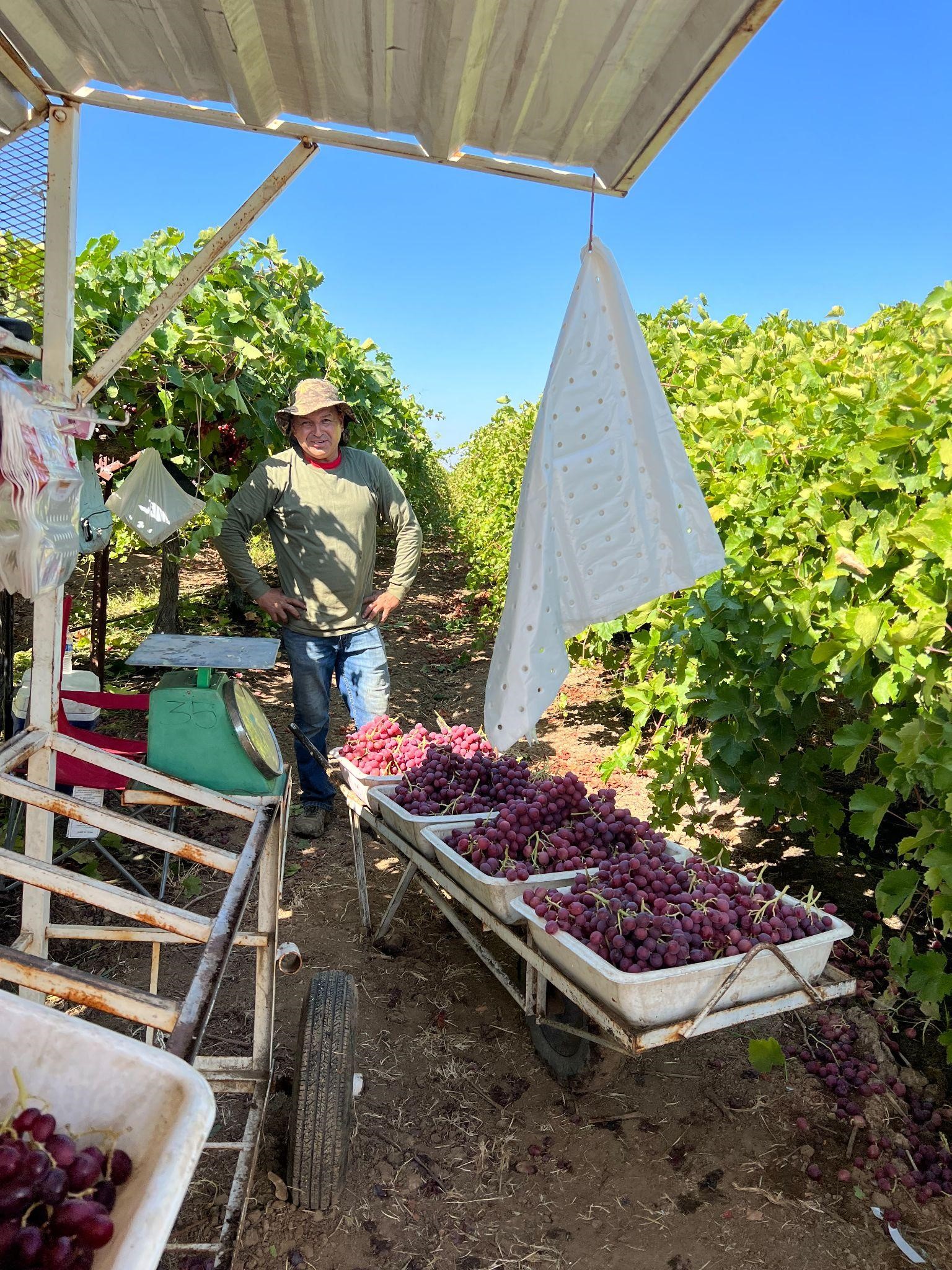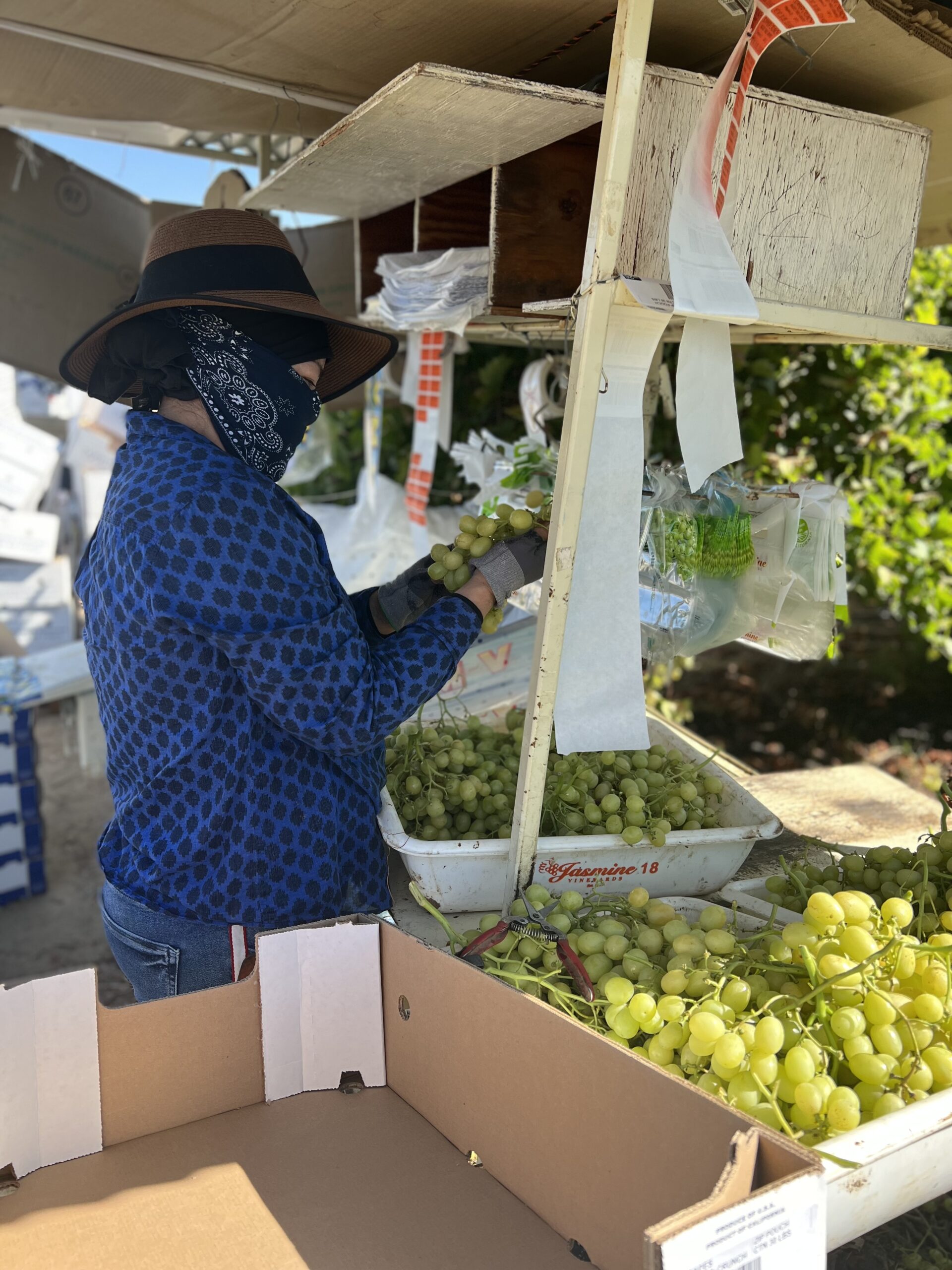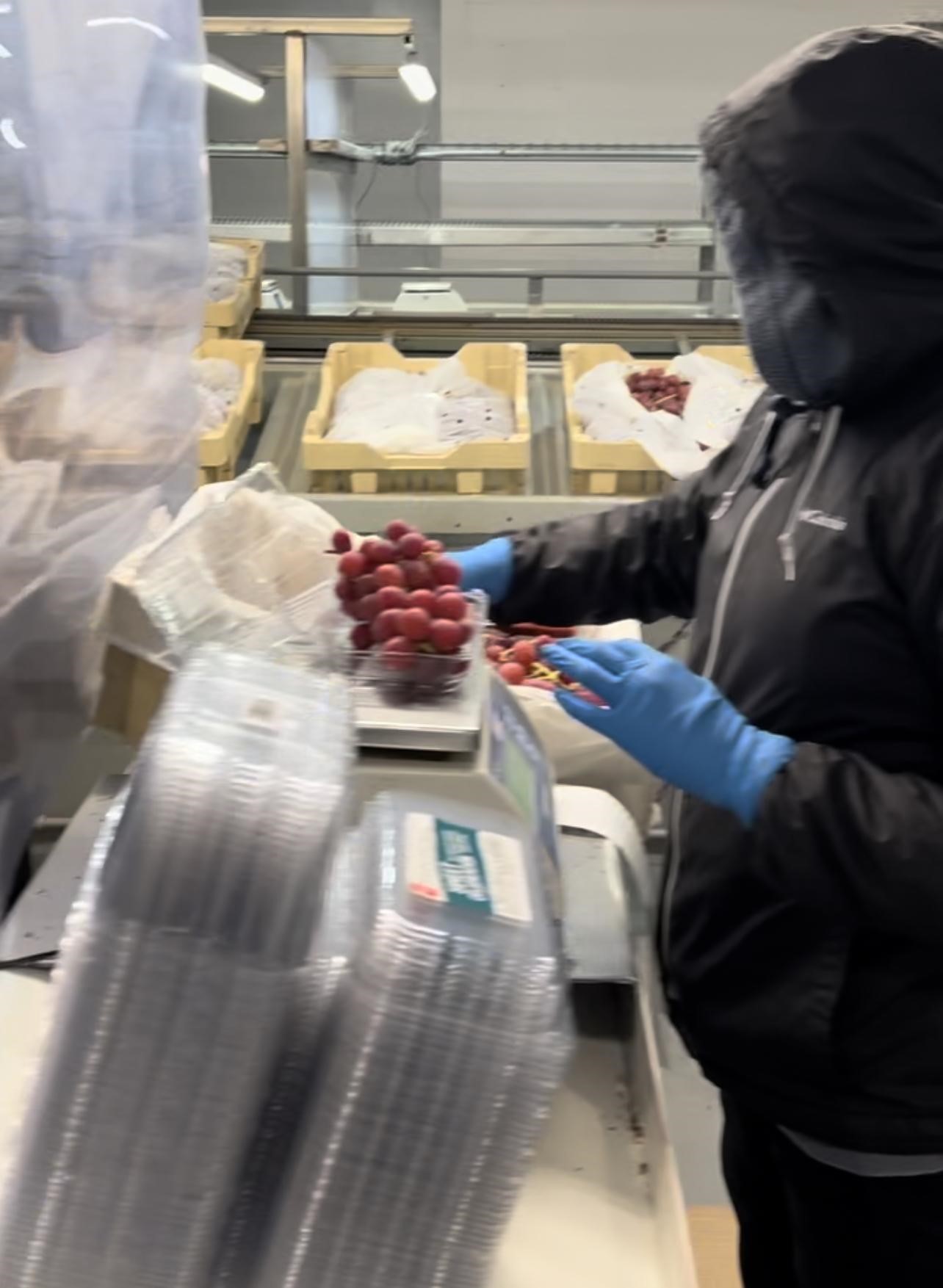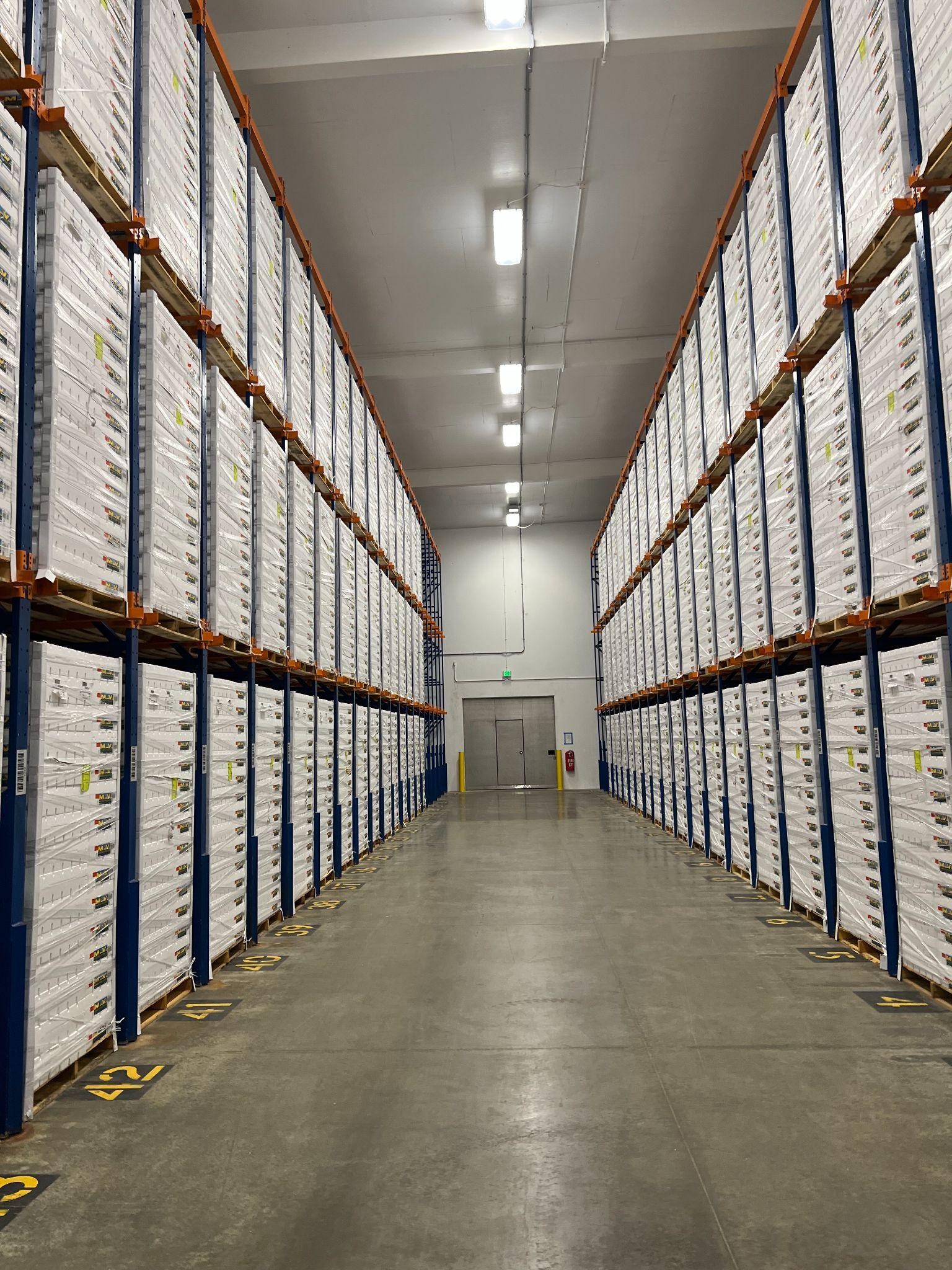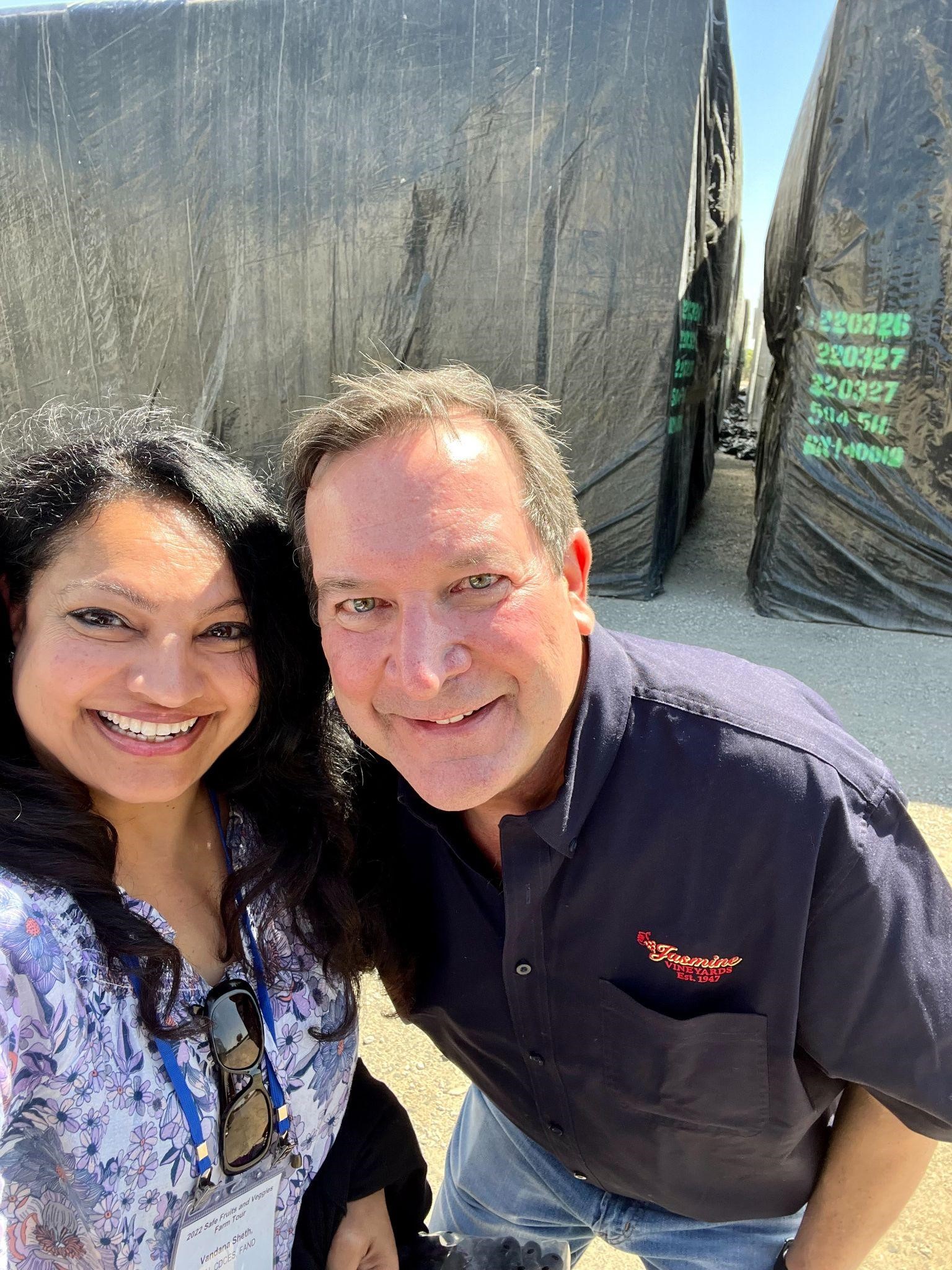 Our last stop of the farm tour was a visit to the McKellar Family Farms followed by dinner in the orange groves. We learned about the four different varieties they grow, their farming and sustainable practices and a dinner in the middle of the orange grove was magical.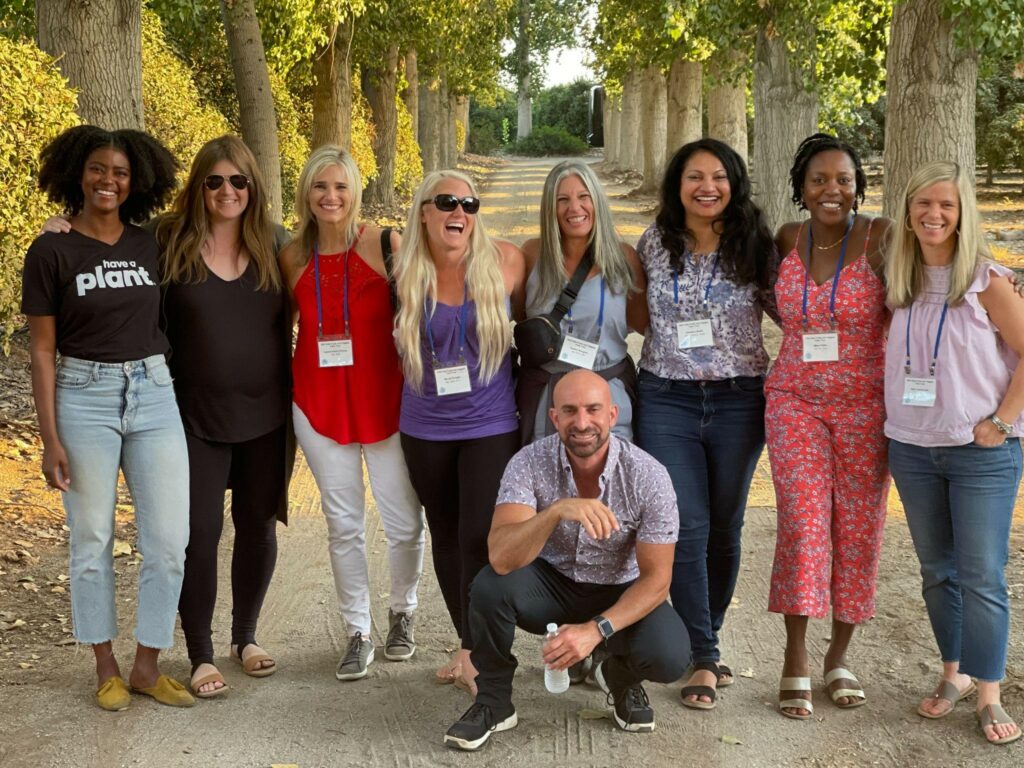 Key Takeaways – Farmers and Innovative Farming Practices
Multi-generational Families who care deeply about their role in feeding America own and run these farms. Their practices have evolved and continue to evolve to ensure their legacy as they pass the farms down to the next generation.
The use of technology and systems to ensure that produce gets from the field to the packaging and cooling facilities is fascinating. Fruit that we saw on the fields was packed within a few hours after being washed and sorted appropriately, by hand in many cases, and packed into containers/boxes.
Farmers are using creative and innovative ways to improve their farming practices. The use of pheromones, solar energy, plant biodiversity, drip and micro irrigation practices to help with water conservation, and sustainable packaging solutions are just a few ways that they are using technology as the future of farming.
Farmers, farm workers, employees in the packing and cooling facilities as well as those who manage the administrative tasks work seamlessly as a team for us to enjoy delicious produce.
Even though farmers who produce similar produce are competitors, there is mutual respect. They collaborate to share best practices, face challenges together and problem-solve for the benefit of the community.
Here is what the farmers I spoke to want you to know:
The farmers' intent is good. They want to produce wholesome food for consumers to enjoy because if they are able to do that, they can sustain their family business.
Growers are very forward-focused. They are constantly adapting and using sustainable practices to decrease inefficiency and improve quality.
There is value in American produce- helping to sustain domestic produce is important.
They want you to ask yourself this question when you next choose your fruit or veggie: Where does it come from and who grows it?
Final Thoughts About My San Joaquin Valley Farm Tour
I left the tour feeling so thankful to farmers for all that they do to grow safe food.  What impressed me the most was the passion that farmers have for what they do, their hard work and resilience, their creativity and pride in providing produce for us to enjoy. We have stringent standards in place to help maintain the safety of our produce. Sustainable farming practices, use of innovation and technology is helping us enjoy delicious and safe produce.  We know that fruits and veggies are full of vitamins, minerals, antioxidants, fiber and help with health promotion and disease prevention. Sadly, only one in ten Americans meets the recommended servings of fruits and veggies per day. It is important that we all enjoy more fruits and veggies. I hope this post gave you a deeper understanding of where your food comes from and the care that goes into producing it.
Want to learn more, visit https://www.safefruitsandveggies.com/ for information about farming, nutrition, health, toxicology and risk analysis for consumers, media and nutritionists and dietitians.
Thank you to the Alliance for Food and Farming for the honor of visiting farms, packing and cooling facilities, meeting farmers and farm workers who are so passionate and work so hard to keep our food safe, nutritious and delicious.
Thank you to the sponsors of the 2022 Safe Produce Farm Tour – California Citrus Mutual, California Fresh Fruit Association, California Table Grape Commission, International Fresh Produce Association, Pear Bureau Northwest and Western Growers Association.